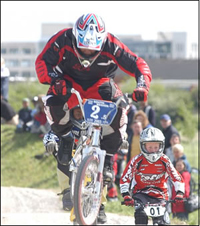 Peckham BMX Club London began in 2004 when local DJ and entrepreneur Ck Flash was approached by Southwark Council and Edwards bike shop to take on the challenge of clearing a patch of wasteground on Naylor Road. After some back breaking work and opening with just 4 kids the club was born, it quickly attracted scores of local children and soon grew to becoming the Number 1 Club in the UK in 2008. An incredible achievement in such a short space of time and one that bears testament to the clubs mentality, the kids determination and CK and fellow coaches inspiration.
With a lot of hard work and support the club was soon challenging for more and is now producing some of the best UK talent, sending over 4 riders to the Olympic Development team with The British Cycling Federation and has created scores of British and National Champions. All this has been done with a tiny quarter sized track in Naylor Road which makes their achievements even more exceptional.
After a four year fundraising campaign a new track has almost been completed in Burgess Park which will allow Peckham Bmx to fully stretch its legs and should help get more of these talented racers to Olympic standards. The location opposite The Aylesbury Estate will attract more youngsters crying out for positive reinforcement and to learn from the skills associated with BMX, the exciting thrill of high impact exercise with the discipline of training will help this next generation of talent reach their potential. The full size track will open on August 16th in Burgess Park in South London and all are welcome to come down and test it out. There will be taster sessions for kids and adults throughout the day and prominent local speakers in attendance.
Peckham BMX is urgently seeking help with fundraising. CK Flash issued a call to action "We are urgently trying to raise £28,000 for a mini Bus and £25,000 to buy a timing set up for the kids so we can race professionally, every micro second counts in BMX and we need to get the club safely to races" Currently the club members have to pick and chose the races they attend, often missing out on important qualifying sessions and gaining valuable competition practice. CK added "We have a great support team of coaches and parents who are only to happy to give up their time to help but we need the help of these donations to give all our kids a chance. We would appreciate if you could make a donation to our club and celebrate with us on this monumental achievement at our opening day.
Peckham BMX are now the subject of a new 3D documentary 1 Way Up produced by Oscar Winners Shine Global in New York and shows the clubs struggles as it follows two top riders Tre Whyte and Quillan Isidore to the World Championships.