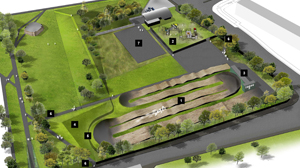 Operating Hours
Thursday novice session 5.30 -7pm experts and intermediates 6.45- 9pm. Saturday mornings novice 9.30-11am experts and intermediates 11-1pm
The track will not be open from 9am-midday on a Monday in order to allow essential maintenance operations to be undertaken to the track and surrounds.
Cost to ride the track (outside of Peckham BMX Club hours)
Visit the Southwark Council website to see all the fees including track and equipment hire and the holiday term programmes.
Programme of Use
The programme of use will be published on the notice board at the track and on the website.
Peckham bmx Is qualified as a British Cycling Level 2 BMX coach, first aid trained and DBS checked.
Bookings for book and ride sessions and also group bookings are to be made through the Council's sports bookings team whom can be contacted on:
E-mail: southwark.sports@quadronservices.co.uk
Tel: 0208 546 9842 or Peckham BMX Club on 07947 920061
Fax: 0871 594 0278
Bookings are to be made by 5pm the previous day on weekdays
The minimum age for open use of the track is 8 years. Specific open sessions will be available for 6 to 8 years. Where siblings that fall into more than one age category wish to ride together discretion will be with track staff. Strider bike session is available for 2 to 5 year olds. The minimum age for club sessions is at the clubs discretion.
A daily risk assessment of the track will be undertaken prior to the track opening each day.
The rules and regulation for use of the track are detailed in and these will also be displayed at the track.
Nobody can use the track until they have completed an induction form in the presence of an appropriately qualified LBS member of staff or Peckham BMX coach (during club sessions only) or are working towards induction as part of a coached group. The induction will identify the competence of each rider and will then inform what sections of the track each user will be allowed to use. The pro straight is to be used by advanced riders during advance sessions only.
The first aid point will be located in the clubhouse.
All staff on site and within the club to be appropriately trained in first aid.
All staff and within the Club to have been DBS cleared.
The public toilets will be open during track hours (9am to 9pm)
CCTV is on site in the form of three cameras linked to the Borough's control room
The track is floodlit until 9.30pm and the management responsibility of these
will own 40 serviced bikes and helmets for the rock up and ride sessions and these will be maintained and issued by the Dr. Bike concession.
The use of the track for events is to be booked through the Sports Bookings Service and if further areas outside of the track boundary are required to facilitate the events this must be booked and managed through the council's Events Application process with a fee being charged for the track use and also for the wider use of the park.
Bikes
BMX and Mountain Bikes should only be used on this track. Bikes must be in a good and safe condition and have a working rear brake assembly. No stunt pegs are allowed on bikes.
Safety Equipment
Appropriate Safety Equipment must be worn whilst using the track. All riders must wear:
• Helmets (Open face skate style or full face, have a CE mark and conform to BS EN 1078:1997 or SNELL B95 standard)
• Gloves
• Long trousers/jeans (if wearing ¾ length shorts knee pads must be worn)
• Long sleeve tops (if wearing short sleeves elbow pads must be worn)
• Rubber soled trainers
General Rules
• BMX riding and racing are high risk activities, this means that accidents are likely to occur without outside interference. Riders must be aware of this and take full responsibility for their own actions.
• Riders should only ride one way around the track. Absolutely no stopping on track at any time, you are permitted to wait in rider rest areas at end of each straight or on the tops of berms. Make sure track is clear when restarting from rest areas. Riders should not cut across the grass areas, stop on the jumps or attempt anything that they feel is beyond their ability.
• The park is an official Alcohol Exclusion Zone. Those found bringing alcohol onto the park will have it confiscated.
• All park users must adhere to the designated Bye Laws of which a copy can be obtained from the Burgess Park Offices.
• Facility users must adhere to the parks opening and closing times which are dawn until 9 to 9:30pm.
• Fixed penalty fines will be issued to those who litter or damage the park landscape or infrastructure.
• BMX riders should show courtesy to those using the park by giving pedestrians rights of way on the footpaths.
• Dogs within close proximity of track should be placed on a lead and dogs are not permitted anywhere within the track area.
Please visit Southwark Council, Burgess Park BMX website for more details.